SETUP & PREPARATION
Question: What are the dimensions and capacity of the Swim Spa?
Swim-Spa is 12Ft – 27Ft by 7Ft – 8 Ft.
Swim-Spa with Entry Steps is 4Ft. LongSwim Spa being lowered onto the concrete pad by crane
Height of Swim Spa is 53″.
Weight of Spa is 2,000 to 3,000 Pds.
Water Capacity filled is 1,500 to 2,500 GallonsSwim Spa being lowered in place by a crane
Weight with Spa and Water is 15,000 to 25,000 Pds.
Question: What does it cost for delivery of a Swim Spa?
Delivery to Curbside is by Truck (Call for Pricing for your State)
California Only $1200
EUROPE / ASIA (Call for Pricing)
Port of Entry
20Ft. Ctn Only Holds 1 Unit
40Ft.Ctn Holds 2 Swim Spas ( All 4 Designs )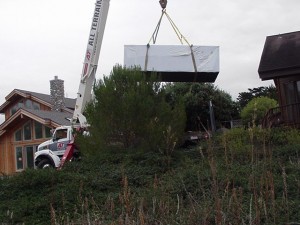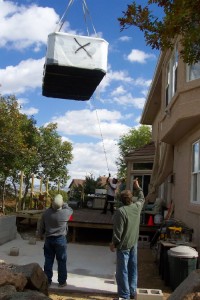 PREPARATION FOR SITE
Question: Are there any preparations for where I can put the Swim Spa?
20 Ft. by 10Ft (Varies Upon Model) Concrete Pad.
5 to 6 Inches Thick, with Rebar inlayed.Foundation being prepped for concrete
Dig a hole 20Ft. by 8ft.,6 Inches deep, so you will be level with Ground.
Ask contractor for decking details.Concrete foundation being poured
Spa on CranePreparation for concrete.
Delivery to backyard is by Crain or Forklift.
Foundation being poured for site.
Electrical Requirements
USA (240V) (50 AMP Dedicated Line)
USA (240V) (60 AMP Dedicated Line)
Absolut Environments
(50 AMP Dedicated Line Swim Area) (60 AMP Dedicated Line Swim Area)
(50 AMP Dedicated Line Hot Tub Area) (40 AMP Dedicated Line Hot Tub Area)
Sample specifications for installation of a Swim Spa in deck
All 19ft to 22ft Swimming Pool Spas Require
(60 AMP Dedicated Line)
European Specifications (CE Listed)
240V 50HZ (Europe Only $500)
License Electrician Required.
Water is filled by hose.
Pump System on Swim Spa
Question: Can I put the Swim Spa in the ground?
Swim-Spas can go in the ground, with optional Gas/ Electrical Heaters.
In-ground installations are roughly 3 times the cost of above ground installations.

CHEMICAL CARE INFORMATION
For complete instructions you can call a service representative (spa/pool dealer) in your area.
What we reccomend is that because you have a 200sqft filtering system, ozone system which kills 90% of the bacteria and a circulating pump that runs 24/7.
1 – Use Chlorine or Bromine Granules, 1 Tablespoon Per Person after use.
2 – Tablespoon is placed insidwe the Skimmer, Filters.
3 – When not in use put cover on, ready for the next day!
The Clarity of your water without adding tons of chemicals will justify your needs.
Always check your PH balance once a week.
FILTERS
Rectangle skimmer place which is above your entry steps into the spa, lift/slide up.
Slide basket out (clean). (4) 50sgft filters (2 On top of the other).
Turn/Spin (2) top filters, Turn/Spin (2) bottom filters.Interior look at the pump system
You can soak/wash filters, or put all 4 filters into your dishwasher, run cycle, take out before dry/heating cycle.
Do the reverse application for putting your filters, basket and skimmer plate back into position.
Replace Filters
UNICEL FILTERS
(4) 50 sq ft Filters
(2) Top Filters 6ch-941
(2) Bottom Filters 6ch-942