21ft/23ft Absolute Jimbo
Dual Temperature Swim Spa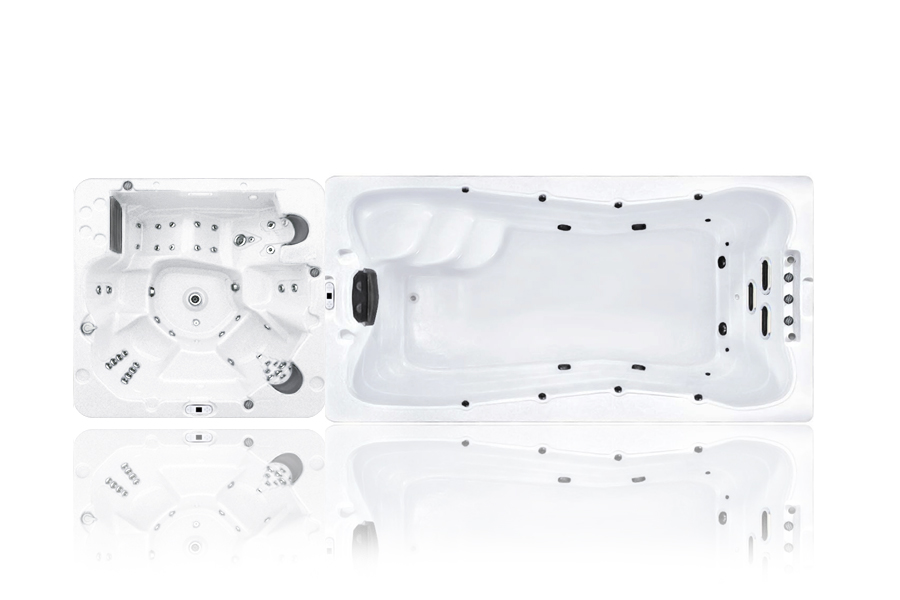 Interior Color




Exterior Color


Dimensions
21ft / 23ft
Price
$ 16,900 / $18,900
Spa Description
The Absolute Jimbo is a dual temperature swim spa that is a combination of the Monterey II (14ft) or Monterey III (16ft) Swim Spa as well as a four to five person-
Hot Tub that features four seats and one lounge area, each seat in this hot tub has pulsating back massagers for comfort and relaxation.
The hot tub also has a built in entry step for stepping in and out from the Hot Tub. The Absolut Jimbo is offered in 21ft with the Monterey II being selected as your Swim Spa design or the Monterey III which will give you an additional 2ft longer overall coming out at 23ft. The nice advantage of a Dual Temperature design is that it allows for you to Swim in 80 degree water and then go and get into your hot tub and relax with the massage jets.




Price Includes
SWIM SPA (14ft long or 16ft Long / 7.6ft wide / 4.2ft in height)
---
Note: Due to supply chain issues related to the Pandemic the 3 Hydrotherapy River Jets will come in either Chrome, Grey or Clear based upon availability.
---
Price Includes
HOT TUB (7ft square / 38inches in height)
OPTION PACKAGES – CALL FOR PROMOTIONAL SAVINGS!!!
NOTE: All Absolut Swim Spa's come with Duratemp Siding Material, however we do offer a Synthetic Material which is an additional $ 1000.